How to: Allow multiple email addresses for one user account
This article is out of date and currently being edited by Support.
---
In order to have an account within your members only site, you need to have a registered email address. This allows your email to be "authenticated", and in the case of many mailing lists - allow you to send into your group's mailing lists with the permissions associated with your account.
But what if you use several email addresses?
The answer is simple: associate more emails with your account!
Navigate to your account page
You can find your account by clicking on your name in the top right corner of the screen. A menu will drop down, where you can click on "account".
Click on the edit tab
On your profile page, click on the edit tab.
Click on "Email Addresses"
Either click on the email link below your primary email, or use the link at the top left of the page (just below the View/Edit tabs).
Add your alternate email.
You can only add one at a time, but after saving each entry, you can add another.
Note: Before you save, you have the option of check-marking the "Confirm this e-mail" box. If you do not check this box, you will receive an email asking you to confirm it that looks something like this:

Clicking the link will allow you to input a code and confirm the address.  This is a good step to follow if you are a site admin adding extra emails for your members. it will allow them to verify that the alternate email you entered is correct. If entered incorrectly, they won't receive the confirmation email, and the address will not be associated with their account.
If you checkmark the "Confirm this e-mail" box, no email will be sent, and you will see a confirmation message at the top of the screen once you save. Choosing to "Confirm this email" essentially skips the email confirmation stage.

Once an email is confirmed, you will also have the option of making it the primary email address. 
The primary email address is the one that is displayed on your account page, and receives all notifications and mailing list emails.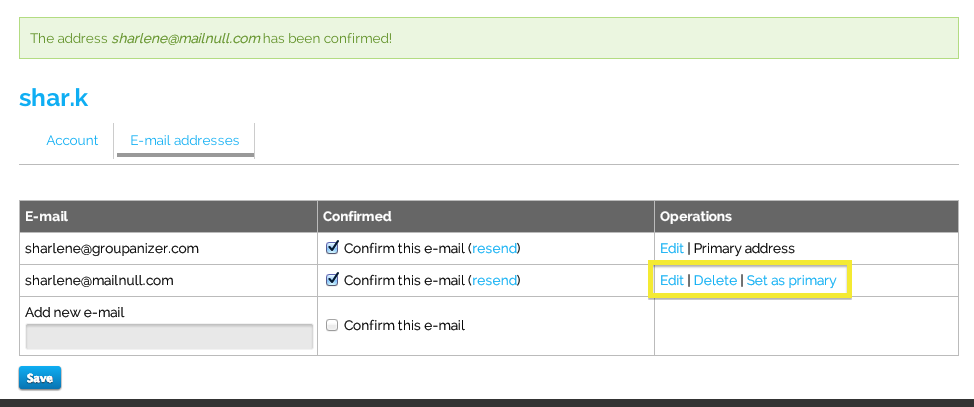 Note: If you need to edit your primary email address, change your primary to an alternate address (it can be fake if you don't have another), edit the address, re-save, and then change it back to the primary.