How to: Set Up Music Learning
This article covers:
configuring the learning states
changing what roles have access to specific learning states
setting up the defaults for music learning
enabling music learning on individual pieces of music.
Configuring the available learning states
In the main menu, o to: Settings & Admin > Site settings > Taxonomy
Then choose to list the terms for "Music Learning"
On this page, you can add new states (via "add term"), change the position of the existing terms (via the arrows on the left - just drag and drop), or edit existing terms (via the "edit" links on the right). When you're done, remember to click save.
Note: The order in which these terms appear affects the colours associated with them. The natural flow from one state to the next should move a user down the list. Items at the top will be red, and items at the bottom will be green (gradients of orange to yellow will be used for states in the middle).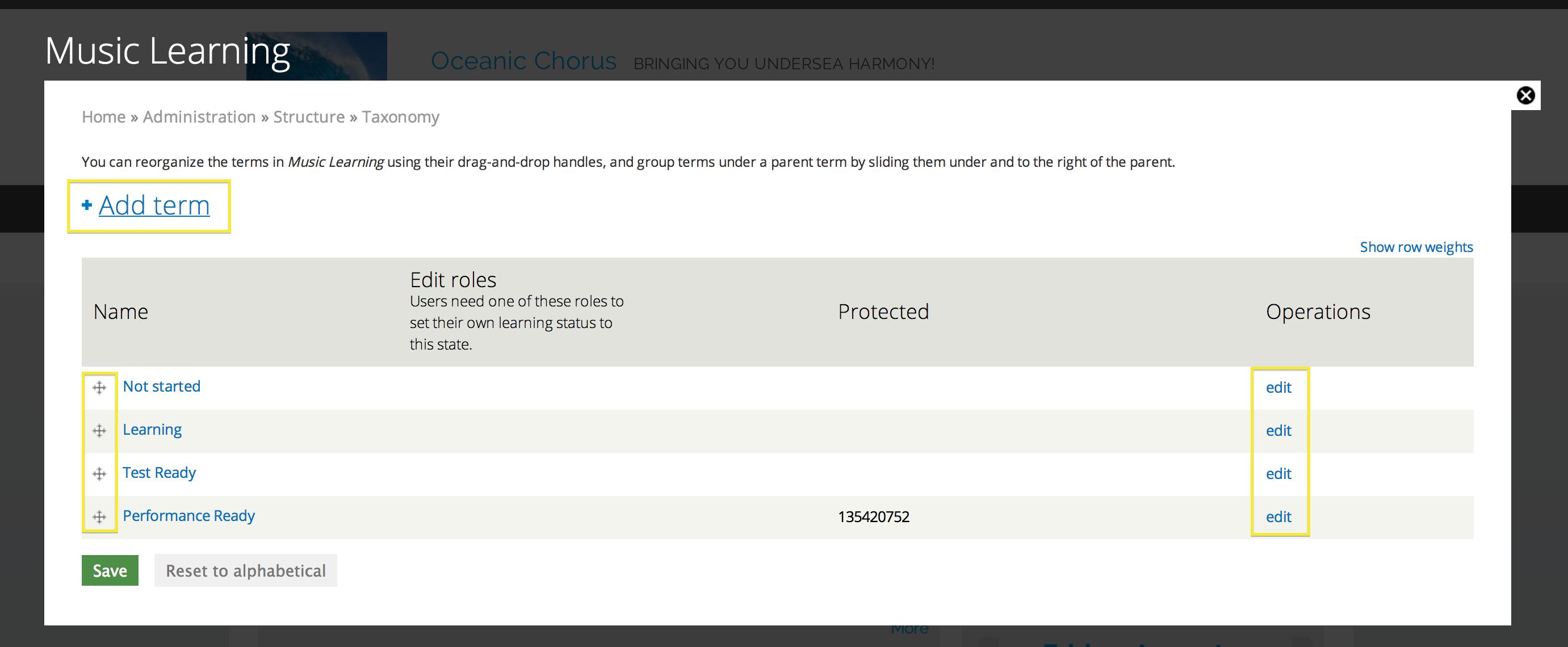 ---
Editing who can move a user to specifc learning states
First, follow the directions above to get to the Music Learning taxonomy page
(Settings & Admin > Site settings > Taxonomy, then select list terms for Music Learning) and then click edit for one of the terms. 
 On the edit page for the term, there is a field near the save button labelled " Edit roles". You can add roles here - so if you'd prefer members to be able to update their own progress, just click the text field and then select from the roles in the list.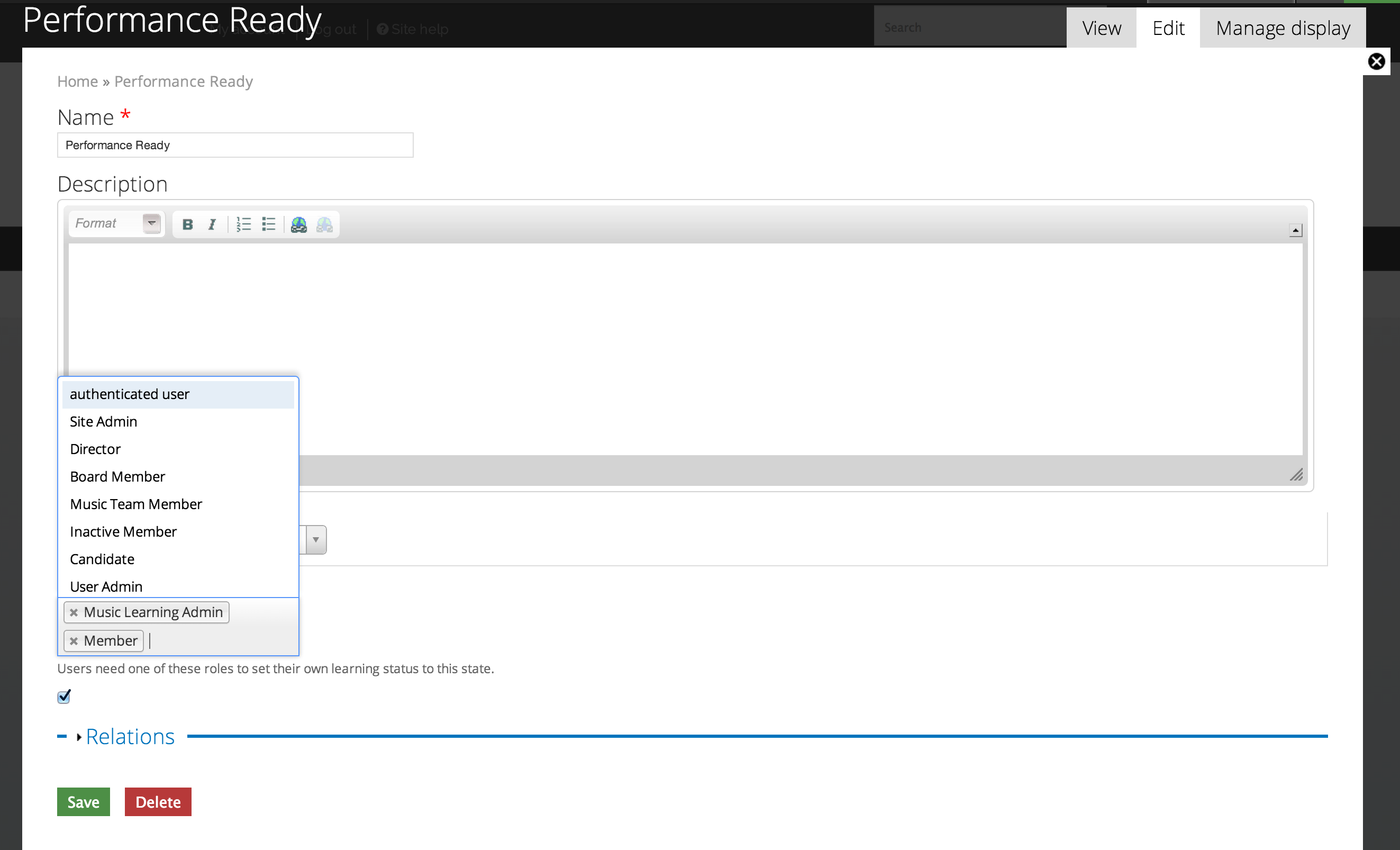 This is also important if you're adding a new learning status - you'll need to add in roles so you can configure who can use that learning state.
When you're finished making changes, remember to click save.
Configuring the Defaults
Go to: Settings & Admin > Feature Settings > Music Learning settings
Select your defaults
You can choose to not use music learning at all by unchecking the "sometime track music learning" box. This will remove screens specifically used for tracking music learning (music learnign report page / recording assessment page)
You can enable section dividers for the music learning report - if enabled the report will appear divided by voice parts.
You can enable music category dividers for the My Music Page - this is the page where members view their music. If not enabled, songs appear in the order of their learn by date only.
You can choose the default setting for music assignment when you add a song - off, assignees can view music, or assignees are invited to learn music. In the older version you can choose to enable music learning by default.
You can choose the default role that will be invited to learn/view music
You can choose the checking state when your Music Learning Admins (Checkers) are notified about new recordings to be checked. You can also choose to not send any notifications by selecting "Do not send notifications".
Note: items in italics are only available to users once the "multichoir" update is released - this is currently scheduled for June 22nd, 2016.
Enabling Music Learning
Navigate to the main music page - in the multichoir version (TBR June 22 2016) this is located in the "Music Area"  and the page is called "Music Library"
Select a piece of music that does not have Music Learning enabled, and click edit. You can tell if music learning is not enabled because there will be no coloured square before the title.
Scroll to the bottom of the page to the music assignment area.
Use the checkbox to enable music learning. In the Multichoir verison, you can select to invite users to view the song, or if you want them to learn it.
Choose who's invited by their role 
Select one of mutiple roles. Be sure to set a learn by date, as well.
Choose if you want to send notifications now.
By selecting "send notifications now", a music learning invitation notification will be sent to all invited users. If you do not select to send notifications, you can always come back later and re-save the page after checking the box - or members will still see their music learning records for this song even without a notification.
When you're done, remember to click save at the bottom of the page.
Music Learning Admins can read about checking recordings and statuses 
here
.
Members can learn about uploading recordings 
here
.
---